Cinnah Caddesi N.Erim İşhanı 37/22 Cankaya, Ankara, Turkey
Tel: +90 312 438 22 23
Email: [email protected]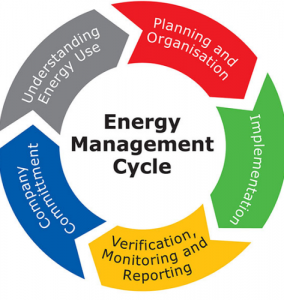 Energy management is the process of monitoring, controlling, and conserving energy in a building or organization. Smart energy management is revolutionizing traditional utility operating and business models by providing new capabilities—from improvements in integrated resource planning to carbon emission reductions to higher asset utilization.
The Seven-Step Energy Management Process is based on the Energy Star program, supplemented with additional information tailored to commercial and industrial facilities. This systems approach will assist energy managers, facilities personnel and other Energy Team representatives in learning the process of energy management, as well as help educate their company on how an effective energy management program benefits their organization and the environment.
Each of the individual steps contains a printable version of the Energy Star Guidelines for Energy Management and additional resource materials to help Energy Teams develop and implement their own energy management program.
1

PROJECT ASSESSMENT

2

ENERGY USE EXPLORATION

3

SITE INVESTIGATION

4

ECM/FIM AND EBCX ANALYSIS

5

ECMS/FIMS

6

FINAL ACCEPTANCE

7

CONTINUOUS ENERGY MANAGEMENT